Why is off page optimization so important for your content?
One thing that I've learned about attraction marketing is that you must create good quality content online. However, it's also dependent upon that fact that your content must be seen in order for it to get noticed.
One of the strategies that I use is SEO, which means Search Engine Optimization. This is where I optimize my content to be found in the search engines. Even though you may know how to do proper On Page Seo, but it's just isn't enough to rank and stick in the search engines.
Quite often, many new marketers focus on just creating content, but rarely focus getting that content properly seen by visitors.
With that being said, you can publish content all day long, but if you are not consistently promoting that content in order to be found by people who are looking for it, you are wasting your time.
Today I want to share a few tips concerning off page optimization that you can do to promote your content off-site  for it to be seen in the major search engines.
Once it's found in the serp's by quality prospects, you will attract leads and sales on demand.
Be sure to stay with me til the end so I can give you access to a "done for you" Seo service that will walk you through all of the "off page optimization" steps.
Let's dive in and talk more about content promotion by means of off page optimization…
Off Page Optimization Steps – Do You Know Who Your Target Market Is?
Before we get into how to do off page optimization, let's first make sure you know how to do keyword research. Without knowing which keywords to optimize your content for both on page and off page; it will be virtually impossible to target your audience effectively.
Since we know that people are searching for what you got in the search engines, the key to writing great content is to know upfront who you are creating it for. Without doing any proper keyword research on your target market, you are pretty much talking to nobody.
"Take a look at this FREE keyword research training  here!"
As you can see, it is very important to research your niche before creating any piece of online content to ensure that you have an ideal audience to serve.
Therefore, one of the best ways that I like to research my target audience is by doing keyword research. Since my primary marketing strategy is blogging, I tend to put much energy into doing proper keyword research. Keyword research is simply where you actually see what people are searching for online and how many times per month they search for it.
Since Google keeps a log on these keywords that people actually type into their search bar, it makes its easier for us marketers to target these prospects.
Once you got a good list of good keywords, you now have an idea of what type of content that you should create according to your niche.
Now its off to creating content and optimizing it for your target audience.
Remember that your main focus will always be to solve the problems of your prospects and give them solutions.
GET ON PAGE #1 OF GOOGLE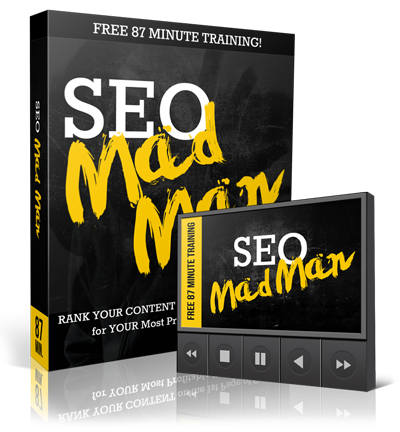 INSTANT ACCESS: 7-Figure blogger reveals his SEO secrets to Rank Your Content on the 1st Page of Google for ANY Keyword.
 Off Page Optimization Checklist – Publish and Promote Your Content
Now that you got your target audience, it's now easier to help craft your message. It is your job as an attraction marketer to provide valuable content to help your target audience solve their problems.
"However; it doesn't stop there!"
Once your content gets properly optimized for the keyword you want to rank for and published online, you must promote it off page as well, in order to get targeted eyeballs in front of your offer. Whenever a targeted prospect types a search term in Google or any other major search engine, the goal is to rank on the first page of the search results, preferably the first spot.
As you can see by now, it just isn't enough to publish good content and pray it gets seen. There is work you must put in so you can promote your content until it becomes visible to your target audience.
Even though you may know how to correctly On Page optimize your content for the keywords of your choice, it's crucial that you implement off page search engine optimization to ensure you rank well.
Without targeted eyeballs on your offers, it will be impossible to generate leads and sales on demand.
 How To Do Off Page Optimization – Let's Get Visible!
OK…
I take that you know your stuff when it comes to On Page optimization at this point.
Now Let's talk a little bit on what is off page optimization before we go in-depth on how to do it.
Have you ever wondered how do people rank in the search engines for various keywords?
If you're tired of struggling and want to rank your content on Google and many other major search engines, it's time you step up and market like a professional.
Take a look at Rank and Stick Seo and get access to your FREE  off page optimization checklist and more…!
Need More Traffic, Leads and Sales?
"
Dangerously Effective System

Promotes Your Content to Thousands of Authority Sites & High PR Blogs for Competitive 1st Page SEO Rankings,

FREE Traffic All Day

, and a Flash Flood of Buyers for Your Business…
on 100% Autopilot!"
P.S. If you find value from this post, be sure to SHARE and LEAVE A COMMENT below…I would love to hear your feedback!
To your success,
Larry Porter
See This Blog Post on Personal Branding and Becoming an Online Authority!
Also…"IF YOUR BUSINESS IS STARVING FOR ON-DEMAND LEADS & SALES...
FOLLOW THIS 5-STEP BLUEPRINT and PROSPECTS WILL HUNT YOU DOWN 24/7″
To learn MORE…   CLICK HERE
P.P.S. AS A BONUS….I'm also giving away a "Facebook Getting Started Cheat Sheet" to help with BRANDING YOU as an authority on Facebook!
Comments
comments