Are you seeking an Attraction Marketing Blueprint?
So you finally decided to explore an attraction marketing blueprint that'll attract leads and sales almost effortlessly. Even though most people are not accustomed to attracting leads and sales, due to chasing people in a persuasive manner, attraction marketing is very effective when done right.
Well I'm glad that I have your attention for a minute because today I'm going to share with you 3 tips on how to rake in leads and sales without ever persuading or chasing people ever again.
  Alright… time for me to teach you these 3 tips.
Tip #1 of the Attraction Marketing Blueprint – Brand YOU
One of the best things that you can do as a Network marketer is to NEVER brand your MLM. If you have noticed by now, there a lot of MLM'ers out here pitching and leading with their company. 
Look at it this way, what if your network marketing opportunity up and decides to go out of business?
Now what will happen since you have put all your efforts into branding that company?
You will lose all of your hard work and it will go down the drain. Your business ends when the company ends.
However, if you were to brand yourself, it doesn't matter what company you build or what company goes out of business; YOU will always remain. Therefore, once people get to know, like, and trust YOU as a reputable brand; people will begin to reach out to you versus chasing people down.
Understand this, no one really cares about your company, products, or services. What they do care about though are themselves and how are you going to help them. So be sure to build a reputable brand that people look up to for help.
Tip #2 of the Attraction Marketing Blueprint – Share Value
One of the best ways to build a reputable brand is to consistently share value to the marketplace. When entering the world of Attraction marketing, it is very crucial that you understand content marketing, along with other marketing strategies in order to service the needs of others.
"Become a person of value!"
You should  always invest in learning and growing yourself, which in return will increase your value. With so much value out on the internet, you should have value coming out your ears!
I learned tons of value from the MLSP community and now I'm able to share it with you.
Instead of approaching people with your hand out always, try a different approach by giving value first. I know you may be accustomed to leading with a sales pitch,  but save that for the back-end.
As an attraction marketer, give out valuable information that can help out other network marketers or people looking to get involved in network marketing. Some of your best prospects will be attracted to you according to the value that you give into the marketplace.
Imagine sharing blog post, videos, social media posts, PDF'S, and so much more to your targeted audience.
You can even start by sharing this post!
Tip #3 of the Attraction Marketing Blueprint – Build a Very Targeted Audience
If you are pitching to EVERYONE you're actually pitching to NO ONE!
The secret is always find the people who ACTUALLY want what you have.
Think about it…
Who does your value best serve?
As a Network marketer, your best targeted audience will be other struggling network marketers. Plus, You don't have to try and convince them about the MLM industry, they already are familiar with it.
Other network marketers, even the ones who are seeking to get involved, are always looking for ways to best market their home based business. The truth of the matter is, it's always best to learn how to market yourself rather than your home base opportunity.
If you want my opinion, the best way to gain trust from other network marketers is to show them how to leverage the internet as well as market themselves properly online. Since most people in this industry are struggling with leads and sales, you can provide value on this subject matter and gain the trust of this targeted audience over a period of time.
So just imagine what would happen if you build a highly targeted audience of network marketers or people looking to get involved in network marketing that genuinely trust you?
"You will no longer struggle to get prospects!"
This is simply because you have already built a HUGE following of targeted prospects that's willing to follow and buy anything you have to offer. So this is what happens if you lead with value and help other people out within this industry.
So always remember to lead with value instead of a sales pitch; this will help you in the long run.
If you like these valuable tips on the "attraction marketing blueprint" and would love to learn more, click HERE to see a FREE presentation that explains more about attraction marketing.
P.S. If you find value from this post, be sure to SHARE and LEAVE A COMMENT below…I would love to hear your feedback!
To your success,
Larry Porter
Also…"IF YOUR BUSINESS IS STARVING FOR ON-DEMAND LEADS & SALES...
FOLLOW THIS 5-STEP BLUEPRINT and PROSPECTS WILL HUNT YOU DOWN 24/7″
To learn MORE…   CLICK HERE
P.P.S. AS A BONUS….I'm also giving away a "Facebook Getting Started Cheat Sheet" to help with BRANDING YOU as an authority on Facebook!
RARE PROFIT SYSTEM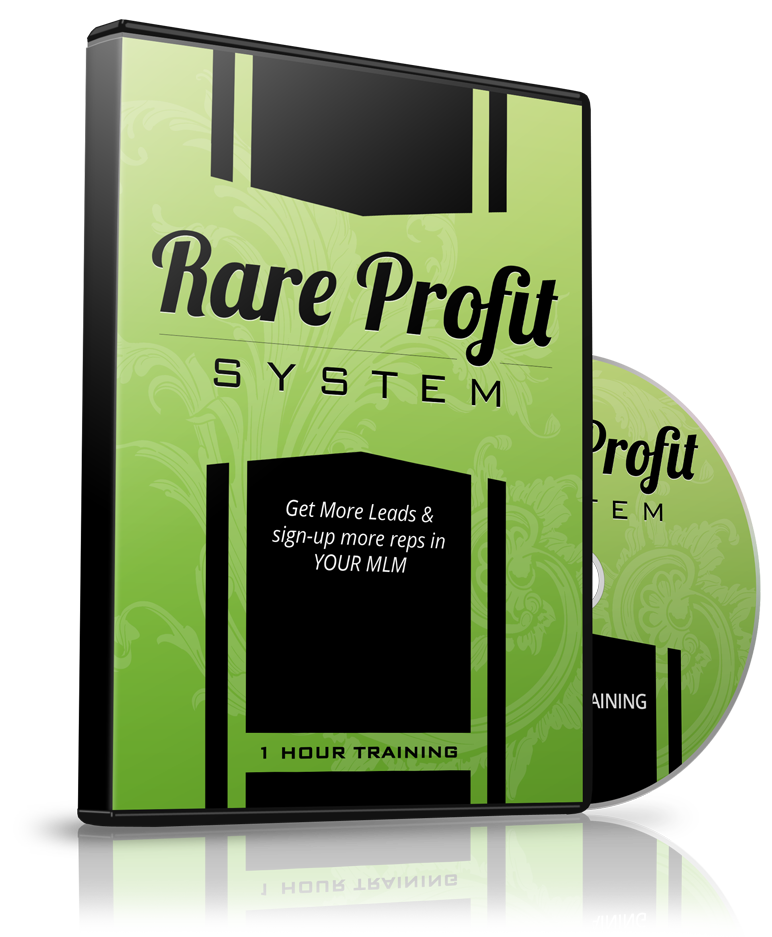 NETWORK MARKETERS: Simple System PROVEN to help you Get More Leads & sign-up more reps in YOUR MLM - See PROOF
Comments
comments